Stock Photo Meme
Both can be reasonably characterized as a million idiots screaming at one another at the top of their lungs, out of which a coherent image or consensus can sometimes emerge. Both are examples of human beings attempting to process and account for uncertainty. The world is chaos, and we all need some way of breaking it down into accessible, relatable terms — whether it's a stock quote or a meme.
What happened today?" "Well, we were all talking about cat penises

for a second there, probably because of the terrifying new

Cats

trailer."

"What happened today?" "Something about the yield curve, I guess. IDK, but stocks still went up, so I guess people aren't too scared."
Recently, these two worlds converged in what's arguably the greatest financial meme the internet's ever bestowed upon us:
stonks
.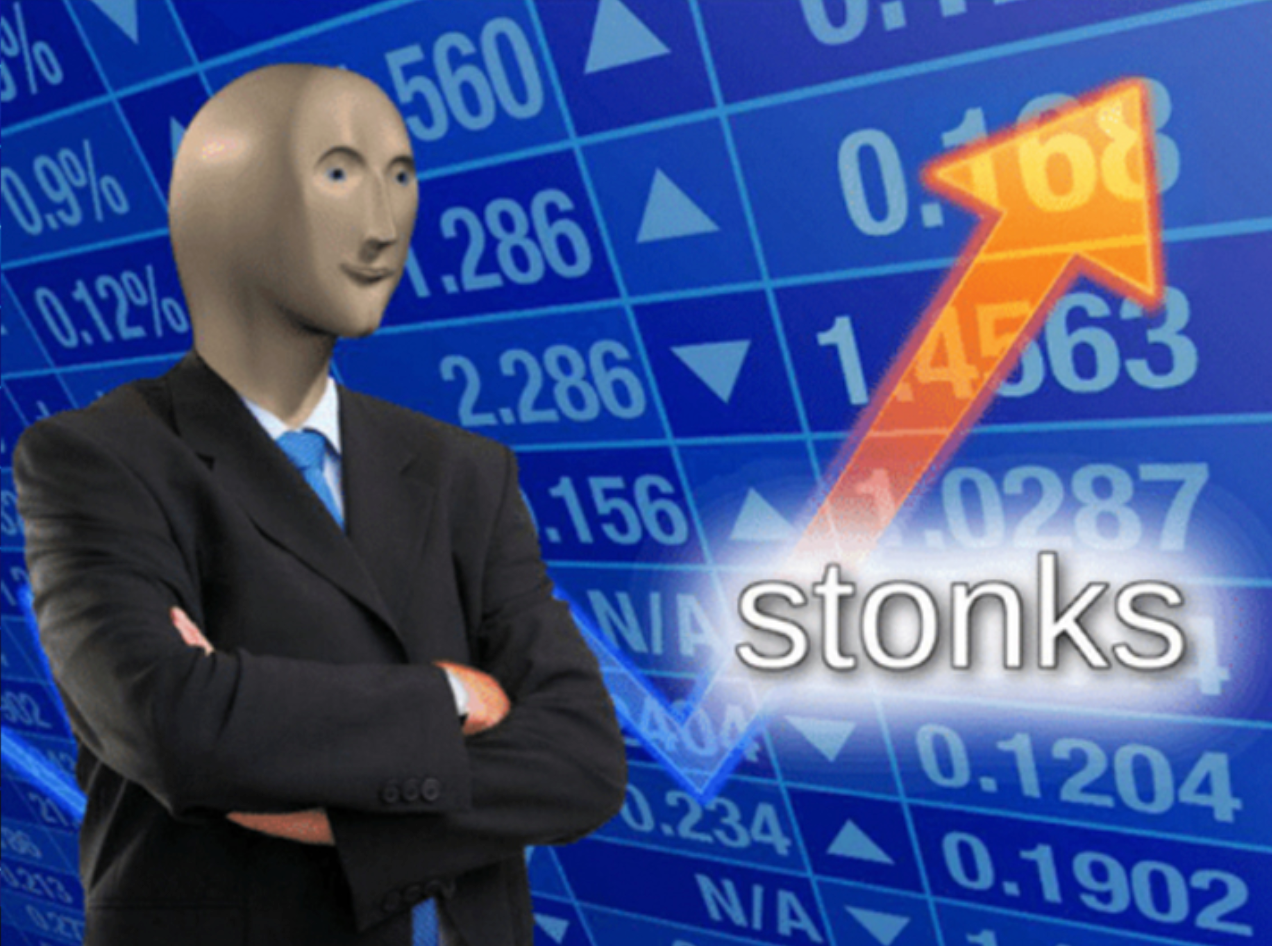 Stonks is a deliberate misspelling of "stocks." It's used to mock bad financial decision-making, bullshit credentials and/or our incapacity to understand the powerful but incomprehensible economic forces that hang so heavily on our daily lives. The joke, essentially, is that all we know about anything money-related is the word "stocks," which we can't even spell correctly.
Like Dril's famous "candles" tweet and the ol' stalwart "shut up and take my money," the stonks meme speaks to our universal feeling of financial incompetence, explains Know Your Meme editor Adam Downer. "[Stonks] became an ironic way to pair images with captions where you are actually bad with money but you think you are good with money. You feel like you've gamed the system, but you're actually kind of an idiot."
It's true: People often think they're Good With Money when they're Actually Quite Bad With Money. That's one of the cornerstones of behavioral finance and behavioral economics, fields that study the intersection of human psychology and money. The research from these fields often tells us that, as far as investing goes, no one really knows what's going to happen tomorrow. So instead of managing a portfolio, we should try to manage our behavior. The truth is, even professionals rarely outperform the average investor when it comes to picking stocks.
This idea was first pioneered and popularized by the great John "Jack" Bogle, who died in January at age 89. His company Vanguard has consistently been the fastest-growing asset manager in recent years. Investors poured about half a trillion dollars into Vanguard index funds in 2018, according to the Wall Street Journal. The company's gotten so successful with its hands-off, passive approach to investing, it's even getting a little sassy about it on Twitter.