How 5G Network & COVID-19 Co-related-Here are The Latest Conspiracy Theories
Hannah Masroor Contributor
Healthcare |Topic
Is

5G

Network Causes for Corona Virus?
Many health experts believe that the new strain of coronavirus likely originated in bats or pangolins. The first transmission to humans was in Wuhan, China. Since then, the virus has mostly spread through person-to-person contact.
In this article, the same topic will be discussed whether 5G network can be the cause of corona virus? This topic is not born suddenly, many people from worldwide claim such questions. How the origin of the corona virus has so far remained a mystery, so we have the right to think from every angle. 5G Networks And COVID-19 Coronavirus
Here Are The Latest Conspiracy Theories
Every person who think, according to his profession, about a serious issue. Telecom professionals are also trying to find the causes of corona virus according to their profession. We all know that if something benefits us then it also hurts us. So has the telecom sector which was growing very fast has become a problem for our lives?
What are some people now claiming is the cause of the COVID-19 coronavirus pandemic? How about 5G? No, not a stack of $2000 but 5G, which stands for the fifth generation of Internet communications technologies.
Yes, add yet another conspiracy theory to the growing list of conspiracy theories.This time some folks on social media are blaming 5G for causing the pandemic that has already afflicted over 1.5 million people and killed over 90,000 people. That's 5G, the technology that is supposed to make mobile and Internet communications much, much faster.
HOW 5G NETWORK ARISE QUESTION IN MANY PEOPLE WITH RELATED TO CORONA
There will be some People who have seen the environment before the mobile network.Is there a difference between the environment at that time and now? I am sure you will definitely say that there is a difference. You must have seen that many animals have disappeared around you,who previously lived in your environment.
A minor honey bee has completely disappeared from your environment. When network radiation can have such an impact on a small bee, then why can't mobile radiation affect humans? China, which was moving very fast in technology, is probably the originator of such virus.


There is already a lot of radiation in our environment, data will be transmitted from 6 GHz on a 5G network. Let us know that this radio frequency range is already filled with other signals like satellite link
.
Oh, Yes, how could telecom possibly be related to the spread of a respiratory virus
?
Well, one variation of the theory is that there is actually no COVID-19 coronavirus. In other words, those pictures of the virus that you see on the news, that testing that you hear famous people are getting, and that severe acute respiratory syndrome coronavirus 2 (SARS-CoV2) that doctors and scientists seem to be battling are all part of some elaborate hoax. The virus is supposedly like love at first sight. It doesn't really exist. Instead, this theory claims that the radiation from 5G is what's actually causing COVID-19 symptoms.
Another variation of the conspiracy theory asserts that radiation from 5G can weaken your immune system to the point that you are more easily infected by the COVID-19 coronavirus. So the claim is that the advent of 5G is what has allowed this virus to spread as it has.
Holy conspiracy theories, Batman. Does this then mean that all those patients, doctors, nurses, other health care professionals, scientists, public health officials, journalists, policy makers, school officials, businesses, and countless others are in on the hoax, coordinating this massive scam? That would be amazing. Heck, just getting doctors and scientists to agree on something can be like trying to herd a bunch of cats with some pickles.
What exactly is the scientific evidence behind these theories
Yes, that seems to be the argument. Something happened and then something else happened. Therefore, they must be linked. 5G can produce some kind of radiation. 5G begins in China. Then people start dying from COVID-19 in China.
Simply showing that two things occurred around the same time doesn't mean that they are somehow linked. How about the following then
:-
1916 - Justin Timberlake wasn't born yet.

1918 - Flu pandemic

2002 - Justin Timberlake leaves N*SYNC

2002-2003 SARS Outbreak

2008 - Justin Timberlake stars in Mike Myers' movie The Love Guru.

2009 H1N1 flu pandemic.

2019 - Someone grabs Justin Timberlake's leg at a Paris Fashion show.

2020 - COVID-19 coronavirus pandemic.
Some People claim here is that since more COVID-19 cases are appearing in locations where more 5G towers are present, the two must be linked. After all, doesn't correlation automatically mean causation?
The answer is absolutely not. Correlation alone does not mean causation. For example, if you were to map out the number of times people laugh and fart at the same time, which incidentally is called "larting," you'd probably see a similar geographic distribution.
Why Is larting somehow causing COVID-19
? Or do 5G towers go up every time enough larting occurs? No, because there is at least one big co-founder at play here that is driving these three things: population density. Places in the U.S. with more people are more likely to have more 5G towers just because more people means more telecommunications demand.
Such locations are also more likely to have a greater number of COVID-19 cases because a larger number of people interacting closely offers more opportunity for the virus to spread. Then there's the larting. More intestines and more people to experience merriment equals more potential larting
.
China was moving very fast in 5G network,
and China had also started 5G network commercially. It is possible, we can infer that the radiation of 5G network may have affected some animals which have caused corona virus. We will also discuss what are the causes of origin for corona virus except 5G network.
What causes for the origin of the corona virus
Many health experts believe that the new strain of coronavirus likely originated in bats or pangolins. The first transmission to humans was in Wuhan, China. Since then, the virus has mostly spread through person-to-person contact.
The CDC recommend that all people wear cloth face masks in public places where it is difficult to maintain a 6-foot distance from others. This will help slow the spread of the virus from asymptomatic people or people who do not know they have contracted the virus. Cloth face masks should be worn while continuing to practice social distancing. Instructions for making masks at home can be found here.

Note: It is critical that surgical masks and N95 respirators are reserved for healthcare workers.
Around 80% of people with COVID-19 recover without specialist treatment. These people may experience mild, flu-like symptoms. However, 1 in 6 people may experience severe symptoms, such as trouble breathing.
The new coronavirus has spread rapidly in many parts of the world. On March 11, 2020, the World Health Organization (WHO) declared COVID-19 a pandemic. A pandemic occurs when a disease that people are not immune to spreads across large regions.
Read on to learn more about the suspected cause of coronavirus and how it spreads.
What Caused Coronavirus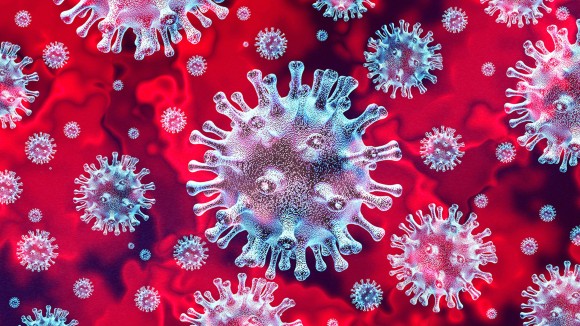 Add caption
The recent outbreak began in Wuhan, a city in the Hubei province of China. Reports of the first COVID-19 cases started in December 2019.
Coronaviruses are common in certain species of animals, such as cattle and camels. Although the transmission of coronaviruses from animals to humans is rare, this new strain likely came from bats, though one study suggests pangolins may be the origin.
However, it remains unclear exactly how the virus first spread to humans.
Some reports trace the earliest cases back to a seafood and animal market in Wuhan. It may have been from here that SARS-CoV-2 started to spread to humans

.
How it spreads
SARS-CoV-2 spreads from person to person through close communities.
When people with COVID-19 breathe out or cough, they expel tiny droplets that contain the virus. These droplets can enter the mouth or nose of someone without the virus, causing an infection to occur.
The most common way that this illness spreads is through close contact with someone who has the infection. Close contact is within around 6 feet.
The disease is most contagious when a person's symptoms are at their peak. However it is possible for someone without symptoms to spread the virus. A new study suggests that 10% of infections are from people exhibiting no symptoms.
Droplets containing the virus can also land on nearby surfaces or objects. Other people can pick up the virus by touching these surfaces or objects. Infection is likely if the person then touches their nose, eyes, or mouth.
It is important to note that COVID-19 is new, and research is still ongoing. There may also be other ways that the new coronavirus can spread.
The primary symptoms of COVID-19 include:
a persistent cough

fever

shortness of breath
These symptoms are likely to occur 2–14 days after exposure to the virus.
Some factors can affect the risk of coming into contact with the virus, while other factors can affect the risk of developing severe illness.

The risk of coming into contact with the virus depends on how far it has spread in a person's local area.

The WHO state that the risk of developing COVID-19 is still low for most people. However, this is changing as the virus spreads — particularly in Europe and the United States.

The risk is higher for anyone in close contact with people who have COVID-19, such as healthcare workers. Viruses can also spread more in certain areas, such as highly populated cities.

Those most at risk of severe illness are older adults and people with chronic health conditions, such as high blood pressure, heart or lung disease, or diabetes.
Finding effective ways to prevent the spread of SARS-CoV-2 remains a global challenge.
Many viruses are preventable through antiviral vaccinations. However, it takes time to develop and distribute safe and effective vaccines. A vaccine for COVID-19 is unlikely to be available any time soon.
The best way to prevent the virus from spreading is by avoiding close contact with people with COVID-19 and washing the hands regularly.
The Centers for Disease Control and Prevention (CDC) recommend washing the hands with soap and water for at least 20 seconds per time. This is particularly important after being in public places.
When soap is not available, use a hand sanitizer with at least 60% alcohol. Avoid touching the face before washing the hands.

Governments, public bodies, and other organizations are also taking measures to prevent the spread of SARS-CoV-2. Look out for announcements of any new measures to stay up to date.

People with COVID-19 should stay at home and avoid contact with other people to prevent the illness from spreading. Keep surrounding surfaces as clean as possible and avoid sharing household items.

Always cover the mouth and nose when coughing or sneezing. Face masks are generally necessary for people who have the illness. Anyone who has regular contact with people with COVID-19 should also wear a face mask.
Nevertheless, this doesn't mean that the 5G-COVID-19 conspiracy theories floating out there have any merit. Advancing such conspiracy theories when there is already a clear established cause behind the pandemic is very different from wanting more scientific studies on the safety of 5G RF. Such conspiracy theories can do real damage, distracting from the real problem at hand, and at nose, at mouth and at respiratory tract, a real virus that is spreading and can kill. It can take focus away from what people, businesses, and governments should be doing such as making sure that social distancing measures are being implemented, finding ways to test as many people as possible for the virus, protecting health care workers and shoring up health care capacity, and supporting research such as vaccine development.
Instead, you've got some people spending time selling anti-5G thumb drives and crowdfunding around these 5G fears, according Ryan Broderick reporting for BuzzFeed News. It makes you wonder, gee, what is the real motivation behind advancing such 5G-COVID-19 conspiracy theories?