Future Technology that change our planet pic
Technology sector is progressing day by day, some new technology is being introduced every day. In the coming time, some such upcoming technologies are coming, which will change the future of the our living planet. In this article, we are going to tell you about such top 10 Future Technologies which are capable of changing our future. Let's know, the coming top 10 technology that will change the picture of the future.
Photo illustration by E-exch.Net
Technology system has changed the world so much and today humans are incomplete without technology. Even from getting up in the morning to sleeping in the evening, we use it everyday.
While human life has become easier due to some technology system, there are some technologies which have affected human life.
But still we cannot deny that due to technology, the picture of the world is constantly changing. As such here i will tell the top 10 emerging technologies which will be very useful for users in the future.
The upcoming technology change our future tomorrow
In the coming time, a variety of new technologies will be introduced around the world, from social robots to nuclear reactors.
According to a new report by the World Economic Forum (WEF), some incoming technologies may affect the global social and economic system.
By the way, many future technology updates are going to come in the future, but here we will only talk about the top 10 future technologies that can change our world.
1.Bioplastic -Truly Better for life
Bioplastics are plastic materials produced from renewable biomass sources, such as vegetable fats and oils, corn starch, straw, woodchips, sawdust, recycled food waste, etc. Bioplastic can be made from agricultural by-products and also from used plastic bottles and other containers using microorganisms
We all know that plastic is used all over the world, but do you know that less than 15% of the plastic is recycled all over the world.
The rest of the plastic is left as is. Due to which environmental pollution increases, which is not only harmful to humans but also to animals and the whole nature.
That is why scientists have come up with a solution of biodegradable plastic. No material of any kind is used in it.It is using for
making cellulose or lignin
of the spoiled part of trees and plants. Future technologies are also included.
2.

Metalenses

are Reshaping the Future of Optics
The concept of metamaterials has been around for a while, but the last two years has seen a surge in scientific and fabrication breakthroughs that could soon usher in a new age of optical techniques and capabilities based on metalenses. The term "metamaterials" was coined from the Greek word meta, which means "beyond"—metamaterials go beyond normal materials in the sense that the natural properties of the materials have been altered.
Metalenses are tiny optical elements that can manipulate electromagnetic waves (light)—just like traditional lenses—but are thinner than a sheet of paper. The technology is exciting to developers across many industries due to their small size, ease and cost-efficiency to manufacture at scale, and their potential to revolutionize multiple optical applications.
The Structure of Metalenses
Traditional lenses work by bending light waves. Lenses are formed with areas of varying thickness, so that as a wavefront passes through the lens, light waves at different parts of the lens are refracted at different angles. Often multiple individual lenses are stacked together (called compound lenses) to direct and control light in specific ways.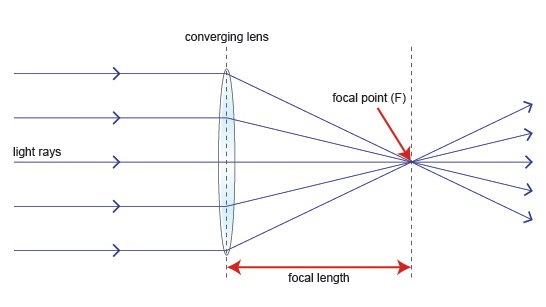 A typical spherical convex (converging) lens bends light waves to meet at a focal point. (Image: Mini Physics)
In contrast to traditional lenses, the concept of a metalens is a single thin, flat structure with multiple waveguides—like tiny pillars—arranged in specific patterns. These pillars, which have also been likened to antennae, are nanoelements made from titanium dioxide (TiO2) that measure approximately 600 nanometers (nm) long—shorter than the length of 10 hydrogen atoms laid side by side.
Creating lenses used in any mobile phone, smartphone, laptop, computer and other electronic devices has much greater capabilities than normal glass cutting.
These small, thin, lenses can replace any existing glass lenses even if the capabilities of these lenses are high. These are called metalenses.
In the coming times, the technology will become so advanced that it will be very easy to make the choice of any lens and give it small or big size.
3.Social robots - Become social worker in future
A social robot is an artificial intelligence (AI) system that is designed to interact with humans and other robots. In the workplace, social robots have the potential to take over entire job functions, such as greeting and basic customer service,
Science has grown so far that robots can be used to recognize voice, face and emotions. About Google Assistant which is very useful for mobile users.
In addition to Google Assistant, artificial intelligence is used to find the interest of social platform users like Google, Facebook.
In the home, social robots could become functional enough to serve as a member of the family and be purposely designed with unique personalities and quirks to engage family members.
Examples of social robots include:
hitchBOT

- a social robot that attempted to hitchhike across the United States in 2014.

Kismet

- a robot head that understands and exhibits emotion when interacting with humans.

Tico

- a robot developed to improve children's motivation in the classroom.

Bandit

- a social robot designed to teach social behavior to autistic children.

Jibo

is a consumer-oriented social robot. Jibo understands speech and facial expressions and seeks to form relationships with the family that adopts it.
A social robot may be remotely controlled, perhaps serving as a telepresence representative at a business meeting or in the home or as a companion in a healthcare facility. Other social robots are autonomous systems with local AI that allows them to interact independently in response to cues from people and things in their environment.
This type of autonomous robot is sometimes referred to as a smart robot. Smart robot intelligence is typically based on a cognitive computing model that simulates human thought processes. Cognitive computing involves machine learning systems that use data mining, pattern recognition and natural language processing (NLP) to mimic the way the human brain works.
4.Smarter Fertilizers
Recently a lot of improvements have been made in fertilizers. These fertilizers release nutrients slowly when needed. With their help, farmers are able to grow good crops.
But they still contain ammonia, urea and potash which pollute the atmosphere. In the future, new fertilizers will use more eco-friendly nitrogen and microorganisms than before, which is much better for plants.
5.Disorder protein
Disordered proteins are the cause of other diseases such as cancer. In contrast to conventional proteins, they lack the rigid structure.
Due to this, its shape starts changing and the disease becomes very difficult to treat. Now scientists have found a way to treat it.
Those who help treat or cure any such disease. Future of technologies are about to make the treatment of such diseases even easier.
6.DNA Data storage
Our data storage system uses a lot of energy. But they cannot keep a large amount of data store.
In such a situation, DNA-based data storage is now being created, which is a low-energy alternative to computer hard drives.
They have a lot of potential. Even the world's one-year data can only be stored in a DNA cube of 1 square meter.
7.Safer nuclear reactor
We all know that nuclear power does not produce carbon dioxide, but the reactors that come with it come with a safety risk and overhit the fuel rod.
If they are mixed with water, they form hydrogen, they can burst. But the new fuel systems that are coming up or coming in the future, they produce less heat.
Even if more hits are produced, they produce hydrogen equal to Na. In the future, the old fuel rod may be replaced with a new fuel rod.
8.Collaborative Tele-presence
Just think, you are sitting in a video conference room and you are not only able to see each other but are still able to meet today. This technology is coming in the future.
You must have heard about Augmented reality and Virtual reality. But what if they are mixed?
With a mixer of augment reality, virtual reality, 5G networks and advanced sensors, it is possible to see and join hands in different rooms.
That is, when these future or technologies come, doctors will be able to treat their patients remotely. Apart from this, many other tasks will become easier.
Future of Technologies comes with a lot of technology, but here we have just given information about the emerging top 8 technologies in 2019 as told by WEF.
Technology plays an important role in solving easy problems in human life. With the help of technology, our life will be easier in the coming tomorrow.