Do you know what IRCTC is and how to create an account in IRCTC?
All of us must have traveled in our train at some time or the other. If you have done, then you will know about the method being done before the journey such as booking of Ticket.
The journey of the train becomes more fun only when the right ticket to go to in your hand. Most of you will definitely agree with my statement. But getting this ticket is not so easy when you have to stand in big and long lines.
Yes friends, because the population is more in India, the best medium for people to come is to travel on the train.
It is cheap as well as comfortable. But when it comes to making tickets, many remember their sad experiences.
irctc.
But IRCTC has also prepared a great solution to this difficult situation. Yes, you heard right, you do not need to stand in long lines anymore, you can do this online comfortably while sitting at home with your Train Tickets.
Neither do you need to stand in long lines nor do you need to waste your precious time. With this approach of the Government of India, the arrival of Indian citizens like you by train has become very simple and comfortable.
I will try to answer all the questions arising in your mind. Today I will tell you what IRCTC is, how to create an account in IRCTC.
At the same time I have some other posts in which I have told you how to book online tatkal ticket in IRCTC, how to select station in IRCTC, how to choose coach in online train booking (sleeper, AC etc), in online ticket booking How will you pay by booking Journey date selection and online ticketing. Then without delay, let's start the information of IRCTC and will also teach you to create an account in it.
IRCTC is one of our main line of Indian railways. The value of which is to support travelers in Catering (eating facilities) and Tourism. But with this the Indian government has also given it the responsibility to provide the facility of Ticket Booking.
From IRCTC, we can do online Railway Ticket Book sitting at home. In this, we just need to create an IRCTC account.
Indian Railway (Indian Railways) is the fourth (4th) largest railway network in the world. USA, China, Russia are first, second and third in the case of Railway Network. Its head office is located in New Delhi. And its official website is www.irctc.co.in,
By using this online portal, you can easily book online Train Ticket. For your information, let me tell you that about 15 lakh people open this site in a day, from this you can guess how much demand is there for this site. This is all about IRCTC and Indian railway, now let us know further about its other works.
What is the full form of IRCTC?
The full form of IRCTC is "Indian Railway Catering and Tourism Corporation".
Its Hindi version will be - "Indian Railway Catering and Tourism Corporation"



Who owns IRCTC?
Indian Railway Catering and Tourism Corporation (IRCTC), is a subsidiary part of Indian Railways which handles catering, tourism and online ticketing operations of Indian railways.
Indian Railways owns Government of India (Government of India). It is maintained only by the Government of India, that too by the Ministers of Railways.
How to create an account in IRCTC.
1) First of all you have to go to the official account of IRCTC. There you have to click on Sign up or Register in the upper part of the page. Click on this link here to register.
2) Here below we have attached ScreenShot of IRCTC home page for your convenience. In this page you will see the register above, click on it.
3) After that this page will open. This is actually IRCTC Registration Form. In this page, you have to fill all the details, for your convenience, I have filled the form below for example. You have to fill your form in the same way as in Screenshot.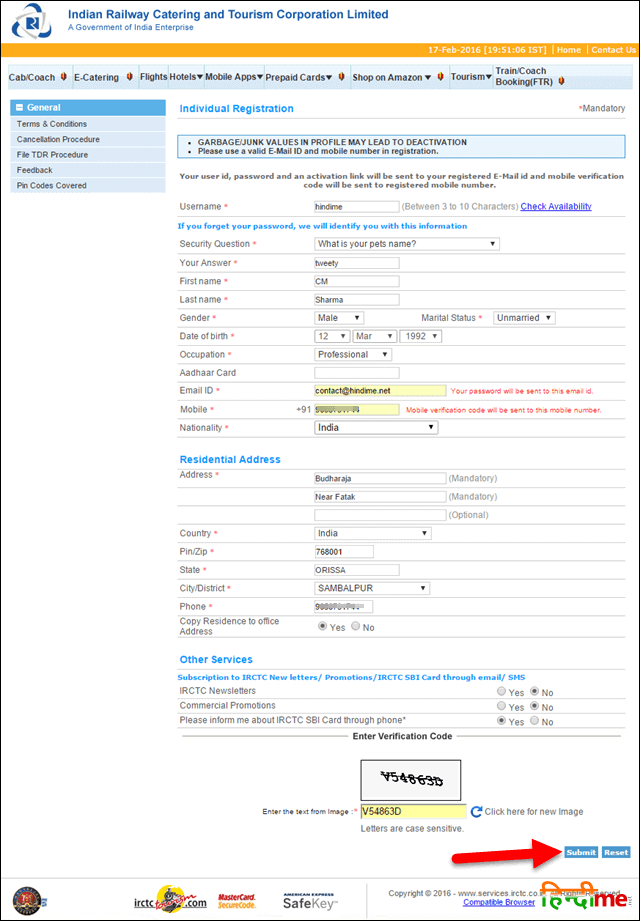 Now you have to fill the form slowly in the right way. I have explained to you below about what to fill. Read it carefully, so that there are no further mistakes.
1. User Name: - User Name character, number or both can be mixed to link
2. Securuty Question: - Choose the question which you remember from Asani.
3. Answer: - Write the answer for the question you would have chosen, I have also given the example of Security Question and Answer above.
4. First name: Your first name like I gave CM
5. Last Name: The name behind your name like I gave SHARMA
6. Date Of Birth: Your Birthday
8. Email id: write your email id
9. Mobile Number: The number you use
11. Address: Here you write your address
12. Country: Name of your country
13. Pin: Add your local pin code
14. State: Name of your state
15. City and distirct: the name of your district
16. Phone: Mobile number you use. Because in this you have to have an OTP to complete the registration process.
17. After that, yes to all those who are there, after that enter the code given and click on submit.
STEP 2
1) After submitting the form, a dialogue box will appear in it and click on Agree. In this page, click on accept.

2) After accepting, you will open a confirmation page. It must be written that your registration has been done successfully.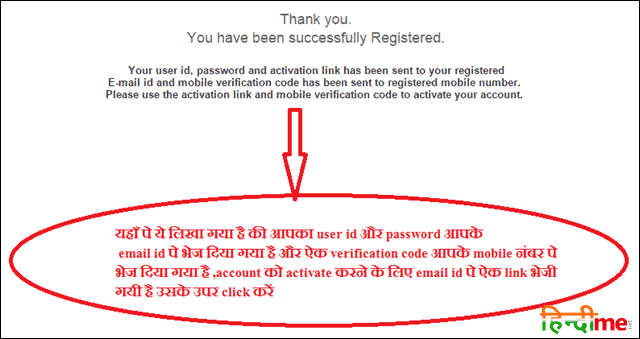 STEP 3
Now from here onwards you have to go to the login page and there you have to login with the help of your userid and password.
Now further process is also called Account Verification. In this, your account will be verified with the help of your mobile number and email address, and then the registration process will be completed.
IRCTC message will come on both your mobile number and email ID, in which 6 digit OTP will be available. First you verify the mobile number by putting the OTP found in mobile, then verify the email ID from the OTP found in the email ID.
STEP 4
When you login, you will see this kind of window. In which you have to verify the OTP received on your phone and email by entering it.
Note: Sometimes OTP may take time to arrive, this is payload on your network. Email ID may also be slightly longer. That's why you should be patient with a little patience. When not found for a while, you can also resend from here.
Who maintains IRCTC?
Earlier BroadVision used to maintain IRCTC which was really very low. But the new IRCTC NGeT (Next Generation e-Ticketing) site is developed and maintained by CRIS (Center for Railway Information Systems).
CRIS also maintains this site in a complete manner, but IRCTC manages the commercial interfaces of the system.
How To Book Ticket In IRCTC Account.
I hope that you have successfully created an account on IRCTC by following the instructions mentioned so far. And now you must be thinking what to do next to book a ticket.
Now to book a train ticket online automatically, just follow the steps given below.
First you login to IRCTC account.
For this, you need to provide login id and password. Enter it correctly. With this you can speak to fill a captch, which you must read and fill properly.
When you will log on IRCTC website in a strict manner. Then the bottom will open as a form. Where you Important information such as From Station, To Station, Journey Date has to be provided.
Now enter from From station name - here you have to fill which station you want to start the journey from.
After that, now enter the To Station name - here you have to fill in which station you want to reach.
Below that, enter your date of travel (Journey Date) properly and finally click on submit button. When you click the submit button, another window will open automatically.
Now here, schedule your plan and train details properly and select your class.
When you select the class, then you will show about the availability of the seat of the train, which you have to check and click on the Book Now option.
Here, by clicking on Book now, you will be displayed the full details filled by you. With this, you will also be shown the mode of payment, where you will have to choose the right mode. Here you can pay through any online payment mode.
Once you have paid the payment correctly and successfully, you will be sent full information about Passenger Seat Detail to your registered mobile number and registered email. With this, you will be sure when your journey will be and when you will have to come to the station.
How to check Irctc Train Status?
If you want to check IRCTC Live Train Status, then you can do this easily. For this but you may need an internet connection. There are many sites where you can check the online IRCTC Live Train Status. some of them are : -
Running Status: - https://runningstatus.in/
Rail Yatri: - https://www.railyatri.in/live-train-status
eRail.in: - https://erail.in/
eTrain.info: - https://etrain.info/in?PAGE=runningstatus