Find the Song Name Without Knowing the Lyrics
it happens all the time. You are sitting in a restaurant with friends or driving to work and there's some beautiful music playing on the FM radio station. You would love to buy a copy of that music album for yourself but the problem is that you didn't get the lyrics so how do you find out the name of that song.
What's the name of that song ? I don't remember the lyrics"
Search engines like Google or Bing won't be of much help unless you know a couple of words from the song lyrics or have some clue about the name of the artist or the band. How do you then identify the name of that lovely song?
Well, here are some of the best music recognition services that can help you discover song names without having to know the lyrics. You may use them to identify music playing from the radio, TV, Internet or that CD playing in the bar.
1. Find Music with your Mobile Phone
1a.
Shazam
– Shazam is a mobile application that you may use to find song names from your iPhone, BlackBerry, Windows Mobile, Android or your Nokia S60 phone. You may also use Shazam on an iPod Touch provided you have an external microphone.
Simply install the Shazam application, hold your phone towards the audio source and hit the Tag button to let Shazam identify the playing music. Shazam works only with pre-recorded music and not with live performances.
The free version of Shazam will help you identify up to 5 different track per month while Shazam Encore, the paid version, offers unlimited tracking for $4.99. If the tune cannot be recognized, there's no charge. If you are in the UK, you can use just about any mobile phone to recognize music with Shazam – just dial 2580 and hold your phone to the music.
2. Find song names using your own voice
2a.
Midomi
– If you have a tune that's stuck in your head, just grab a microphone, hum that tune yourself and Midomi will be able tell you what that song is. Alternatively, you may play a short recording of that "unknown" track for Midomi to identify its name.
Unlike Shazam which is a mobile app, Midomi offers a web interface where you can can hum or sing for about 10 seconds and the service will then show you a list of matching songs. For best results, keep the volume bar in the green and avoid background noise.
Midomi is free to use online, but it also offers mobile apps for iPhone, Android, Nokia Ovi and Windows Mobile phones. You can identify songs by holding your phone up to a speaker or by singing / humming the melody into the phone itself.
. Record a short clip to identify the music
3a.
AudioTag
– If you have a short recording of a song on your computer or your mobile phone, you may use the online music recognition service at AudioTag to figure out the exact name of that song.
You can upload a short audio snippet (or even a whole song) and Audio will try to identify the track title by comparing the audio to its own music database. For best results, you should either take a slice from the middle of the song or upload the whole song and the recognition engine will choose slices randomly by itself.
This can be especially useful if you can record a portion of the song on your mobile device, and then check out the song's information whenever you go online.
Identify Music with help of humans
4a.
WatZatSong
– When computers fail to identify the song that you are looking for, you can take the help of human being who may have an idea about that song.
WatZatSong ("What's that song?") is a social site where you can upload a short MP3 audio recording of the song (or record yourself by humming) and other members of the site can then help you guess the exact song name. The suggestions won't come instantly but you can make their task a bit easier by proving more details about the song like the language in which it is sung or the music style.
You can cross-post the same WatZatSong request to other social sites like Twitter, Facebook, etc. so your entire network can help you in the search.
4b.
Name My Tune
– Sing or hum a short clip of the song you are trying to find the name of. Once you are done recording and enter the Genre and Era that you think the song most likely fits in. They'll send you an email when other people on that site are able to recognize your tune.
5. Use a virtual keyboard to find the song name
5a.
Musipedia
– With Musipedia, you can search for a song by either playing it on a virtual piano keyboard or by whistling it to the computer using any microphone.
Musipedia is styled after Wikipedia and works best at finding classical music. Unlike Shazam which can will only find songs that exactly match the recording, Musipedia can identify all music that contain a particular melody that you just recorded by humming or through the computer keyboard.
5b.
MelodyCatcher
– If you can play the tune on a virtual keyboard, MelodyCatcher can help you find the name of the song tune you're looking for.
With a simple Java-based onscreen keyboard, simply use your mouse to enter the melody, click search, and MelodyCatcher will show you a list of matching songs from across the web. You do not need to enter the full melody: the first 5-7 notes will usually be sufficient to identify a melody.
8 Services To Find The Song Name Without Knowing the Lyrics
Why do songs get stuck in your head, you might wonder. The phenomenon is called an earworm, and the reason is because you are constantly searching for it due to its catchy tune. Occasionally you'll bump into that song while driving but the name and title of the song was not mentioned by the DJ.
The easiest way to find a song is to remember the lyrics and google it, for those that can't remember the lyrics, especially if it is a song in a foreign language, these apps and services might help you identify them. Here are 8 the best music recognition services that can help you discover the song you've been searching for.
↓ 01 – Shazam | Freemium | App ID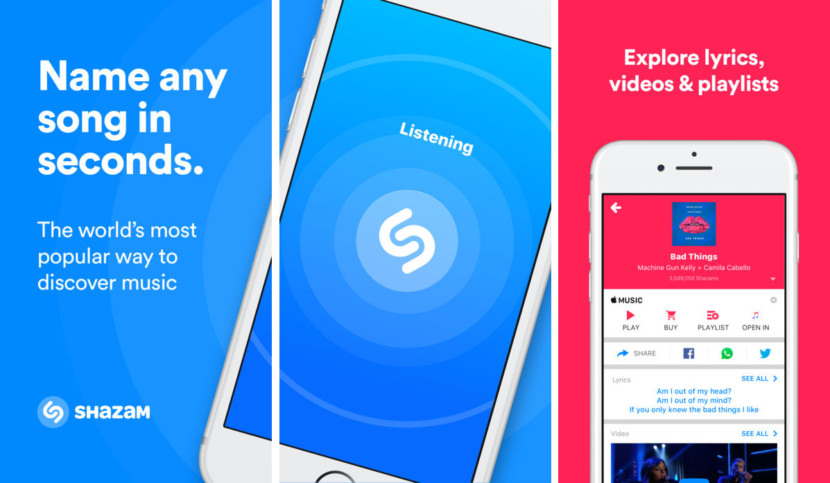 Shazam gives instant satisfaction for when you want to know the name of that song playing on the radio. Just point your phone towards the music source to identify the track- you can also buy it instantly or share your discovery with friends and family. Shazam visual recognition gets you more – tap the camera icon to Shazam posters, magazines or books; anywhere where you see the Shazam camera logo. Now you can find music with your mobile phone, shazam works on iOS iPhone and Google Android smartphones.
02 – Musixmatch | Freemium | App ID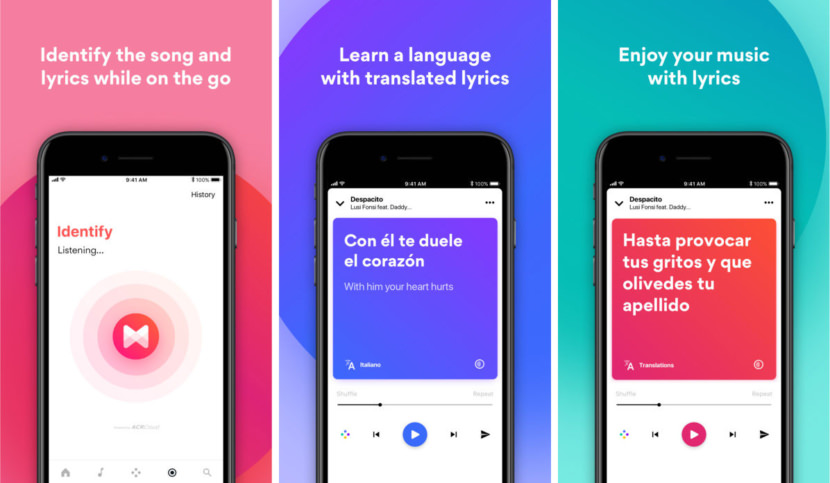 Musixmatch is the world's largest lyrics catalog, giving you synchronized song lyrics with multilingual translations for all your music. Identify and get the lyrics to any song that's playing around you with one tap.
↓ 03 – TuneFind | Free | Complete List of All Music In TV Shows
Have you ever heard a great new song on your favorite TV show and wondered what it was? The amazing users at TuneFind have your answer. Dedicated TV viewers enter and verify the music heard on all your favorite TV shows, making it easy for you to find, listen to, and download new music.
04 – SoundHound | Freemium | App ID, Sing or Hum
SoundHound is a music search and discovery app that listens to what is being played around you. Tap the orange button to instantly identify songs and see lyrics, share, stream, buy or simply explore more about artists you know and love or have just discovered. Have a song stuck in your head? You can also search by singing or humming into SoundHound, making it the only app in the world that can give you results, immediately and accurately, through this sing or hum search via your own voice.
05 – MusicID | Free | App ID
Hold MusicID up to music and it'll tell you the name of the song in seconds. MusicID is the slickest way to identify any song you hear on the radio, at the movies, at the club, at the grocery store, or anywhere. Use your mobile phone to identify music you hear, look up lyrics, download songs, read artist biographies, downloads, and so much more.
Using a sophisticated music fingerprinting algorithm, MusicID can identify over 28 million songs with new songs added daily. You can also search for songs by artist name, song title, or lyric phrase.
06 – Midomi | Free | Sing or Hum To ID Music
midomi.com find and discover music and people. Use your voice to instantly connect to your favorite music, and to a community of people that share your musical interests. Sing your own versions, listen to voices, see pictures, rate singers, send messages, buy music.
07 – AudioTag | Free | Upload Short Audio Clip
AudioTag is a free music-recognition service. It allows you to identify almost any unknown piece of music quickly and easily. Its use is very simple: you upload a short audio fragment (even 15 seconds are enough) or an entire song, the robot analyzes it and provides you with the information about the track title, artist name, album title, etc. Your audio fragment can be in almost any file format and of almost any quality (aurally recognizable, of course) — it can be an MP3 file downloaded from the Internet or a short recording made with your old tape recorder and stored as a low-quality .WAV-file